gloPM
gloPM, the latest addition to the gloStream suite of products, is a powerful and easy to learn and use practice management system. gloPM simplifies scheduling, billing and creating practice reports. Built atop Microsoft technology and embedded with Microsoft Office, gloPM has a familiar Microsoft "look and feel" and makes true practice management easier than it's ever been before.
Dashboard
With gloPM, just as they do when using gloStream's EMR software, doctors and practice managers have the flexibility to do their jobs effectively, efficiently and in the way they are most comfortable. We don't take users through a series of pop-up screens and check boxes. Instead, users choose where they want to go from our central dashboard.
Scheduling
The backbone of every practice is the scheduling desk. It's incumbent upon scheduling to ensure the doctor's schedule is clear and well defined, to keep workflow running smoothly. gloPM uses a simple scheduling philosophy: it's all about "people, places and things," since these are the three main categories that require scheduling. People relates to doctors and patients, places to examination rooms and things to resources such as diagnostic equipment. Users can quickly and easily schedule all three data elements, make changes by dragging and dropping entries and even set up a new patient appointment directly from the scheduling screen.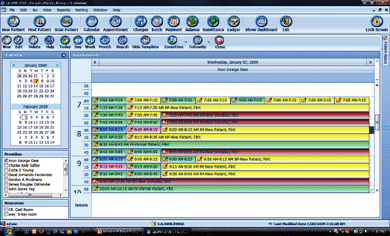 Billing
Information from gloEMR flows directly into our integrated billing system. With a single click, billers can access a full range of billing information from patient demographics to billing/procedure codes to claims status. Our real time insurance eligibility and claim status check gives staff key information quickly so they know if patients have adequate insurance. Staff can even forecast when they'll be paid for services rendered. Integration with clearinghouses makes claims processing quick and easy.
The gloPM billing module features extensive claims scrubbing functionality. Before claims are submitted to insurance companies, they are checked and reconciled for errors. Billers receive feedback so that they can make the changes needed to ensure approval and speed payment of their claims. The software's single-screen views simplify navigation when editing payment information; staff can easily apply insurance reimbursements or review co-pay data quickly and easily.
Reporting
gloPM's robust reporting system gives practices the big picture view of their scheduling and billing so they can segment data for a better understanding of patient demographics. Easily selectable and customizable report types include:
Claims status
Claims reviewed
Transaction history
Transaction history analysis
Missing charges
Charge summary
Accounts receivable
Because gloPM has the full force of Microsoft Office technology embedded within it, all reports can be exported to Microsoft Excel and distributed to Practice staff. The reporting functionality built into gloPM also gives doctors important data for making smart business decisions. For example, reports might show that emergency patient visits drastically increases in the winter but decreases in the summer. This data helps practice staff forecast their schedule. gloPM also provides visibility into the types of services rendered and the home location of patients so Practices can reach out to patients and prospects with targeted advertising or public relations campaigns.
To learn more about the gloStream EMR solution and our guarantees, Call Us at 866-456-7995